Learning Platform
bTalks Live Training Platfrom is a place that makes it possible for companies, teams and individuals to meet with an aspiring community of instructors who are willing to share their experiences and knowledge. At bTalks we work with professionals who are enthusiastic about helping others learn by sharing with them their best practices, inspirational stories, tricks, and tips proven to work, providing feedback and last but not list doing all this while having fun with the participants.
What we do

We provide an effective and easy-to use instrument that can alleviate your company`s HR team from the lengthy and time-consuming processes related to the organization of any training event. Those include but are not limited to sending out and collecting feedback from participants, sharing instructions and materials provided by the trainer, as well as sharing personalized feedback and recommendations form the instructor. In this way, the learning platform simplifies the logistics around the trainings and provides an organized learning process, which is also simpler, less frustrating and more effective.

What we provide

In every participant`s personal profile, one can find all of additional materials related to the training, in one place, such as:
• Presentation slides
• Homework assignments
• Videos of the recorded training sessions
• Additional files and feedback forms
• Calendar with your past/future trainings
• Certificates
• Archival materials from past trainings you have been enrolled in

How we help

By giving you unlimited access to an organized space for your files, we help you save time and energy by finding quickly and easily what you are looking for. Combined with the high quality of our trainings and the great energy of the instructors` team, we give our best to make your learning experience more effective and enjoyable!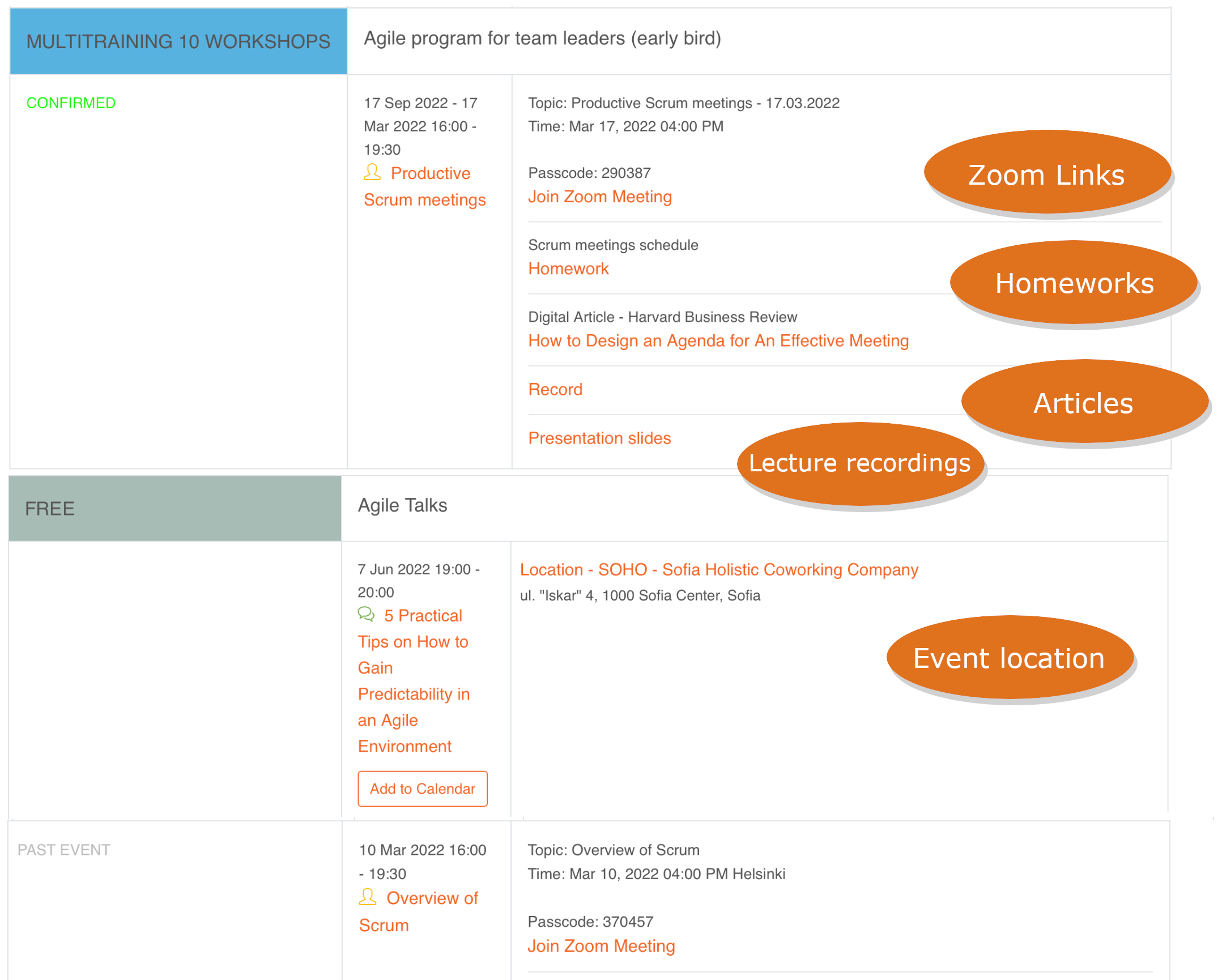 Какво споделят някои от клиентите ни:

SmartIT - http://www.smartit.bg/
"Обученията по "Agile Business Analysis" и "Agile Product Owner" бяха изключително полезни, интераквитни и ефективни. Теодора е впечатляващ Аgile треньор. По време на обученията, тя успя да създаде страхотна атмосфера и да ни представи необятните си знания и опит по темите."

TechnoFarm - https://www.technofarm.bg/
"Обученията бяха полезни за целия екип, тъй като ни помогнаха да структурираме правилно работата си, да планираме по-добре задачите и сроковете в проектите."
bTalks is an ICAgile® Member Organization. ICAgile® is a leading global Agile accreditation and certification body that helps organizations design learning experiences that cultivate an agile mindset and enable sustainable organizational agility.

bTalks is a member of one of the biggest non-profit organizations dedicated to promoting Agile Software Development - Agile Alliance®. bTalks entered a community of over 70 000 members sharing the same goal of applying values, principles and good practices of Agile. Individual members, large corporations and followers of the Agile Alliance® are part of this huge community, where we from bTalks Agile have our place.

bTalks is a member of the biggest, most representative and influential branch organisation in the sphere of information and communication technologies in Bulgaria - Bulgarian Association of Information Technologies /BAIT/.

ERP Academy is an innovative project of leading Bulgarian and global business software companies and experts that unite efforts to make higher education closer to the real needs of the business, and future employees – as fully prepared for the labor market in the areas of business management and IT. We are happy to be part of Academy's partners network and to support the initiative.

British Bulgarian Business Association (BBBA) encourages business relations between Bulgaria and the UK, and we are happy to be one of BBBA's members.

bTalks is a proud partner of BESCO (Bulgarian Startup Association) – A non-governmental organisation that acts as a bridge between startups, private and institutional investors, the government and other stakeholders in the innovation industry.
Subscribe for Our Upcoming Events
Stay up-to-date with our upcoming courses and free meetups.
Този сайт използва бисквитки за аналитични цели, персонализирано съдържание и реклами. Ако продължите да го разглеждате, вие се съгласявате с използването на бисквитки.